LANDSCAPE LIGHTING IN BATON ROUGE
Illuminate Your Baton Rouge Property with Professional Landscape Lighting Systems in Baton Rouge. At Outdoor Illumination Design, we specialize in delivering expertly installed landscape lighting systems that will make your property shine. Our dedicated team is committed to transforming your space into a captivating and secure environment. Call Today for A Free Quote (985) 789-1655
O.I.D. is a Baton Rouge leader in Landscape Lighting
When it comes to your outdoor landscape lighting project in Baton Rouge, our top priority is to ensure your experience is enjoyable and rewarding. At Outdoor Illumination Design, we are dedicated to delivering precisely what you envision. With meticulous attention to detail, quality craftsmanship, and exceptional service, we strive to see your home or building beautifully illuminated with outdoor lights, fostering a long-term relationship with you, our valued client.
Enhance the beauty and safety of your property with our professional landscape lighting service in Baton Rouge. At Outdoor Illumination Design, we specialize in creating captivating outdoor environments through our professional lighting solutions. Whether you have a residential or commercial space, our team of experts is here to bring your landscape to life with carefully designed and skillfully installed lighting systems.
Well-designed tree lighting will reinforce aesthetic appeal and make your home look more sophisticated and well-maintained. Tress and bushes can be accented, which brings the landscape together for a resort-like feel. If you need lights for your trees in Baton Rouge, LA then give us a call anytime!
Eliminate the dark areas of your home's exterior for added security and safety. A well-lit exterior not only decreases the risk of crime, but it also reinforces safety in hazardous, injury-prone areas.
Custom lighting can elevate any architectural style or outdoor living space. Custom landscape lighting is versatile, customizable, affordable, and can quickly transform an outdoor space in Baton Rouge from dark and uninviting to enjoyable and aesthetically pleasing.
Most of the time outdoor lights function without us even having to think about it. They turn on by themselves each evening when the sun goes down and turn off in the morning when the sun comes up. However, things can go wrong like bad weather, requiring landscape lighting repair. We can repair it!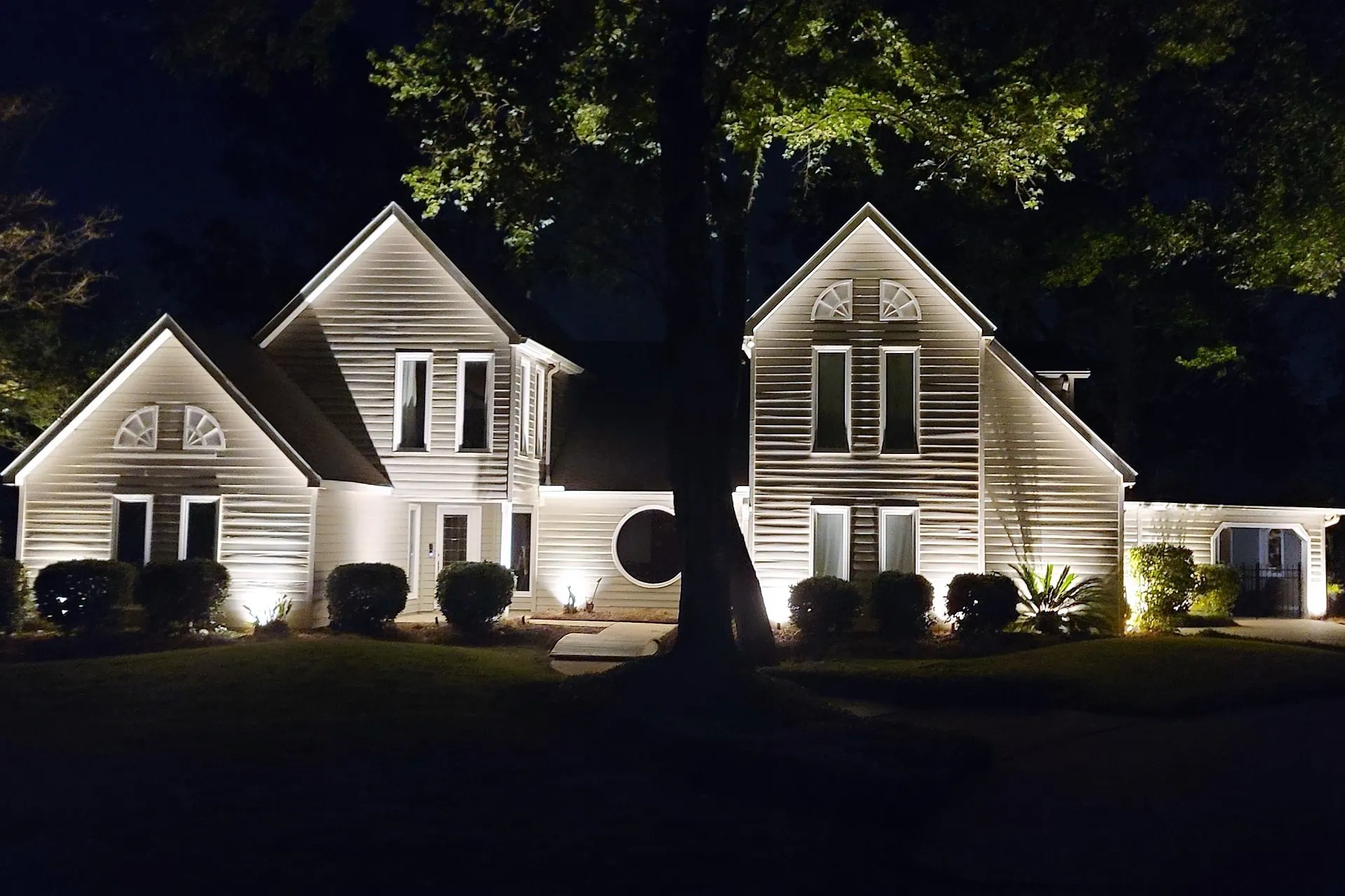 Experience the Difference of Outdoor Lighting Excellence
Landscape Lighting: Our expertise in landscape lighting allows us to highlight the unique features of your property, from majestic trees to exquisite flowerbeds. We create breathtaking visual effects that will leave you and your guests in awe.

Exterior Lighting: Illuminate the exterior of your home or building with our high-quality exterior lighting options. Our team will strategically place lights to accentuate architectural elements and create a warm and inviting ambiance for all who visit.

Garden Lighting: Showcase the beauty of your garden even after the sun sets. Our garden lighting solutions will transform your outdoor space into a magical wonderland, emphasizing the colors, textures, and shapes of your plants and foliage.

Residential Lighting: Elevate the curb appeal and safety of your home with our residential lighting expertise. We offer a wide range of options to suit your style, from elegant pathway lighting to subtle accent lights that highlight your home's architectural details.

Commercial Lighting: Make a lasting impression on your clients and visitors with our exceptional commercial lighting services. We understand the importance of creating an inviting and professional atmosphere, and our expert team will work closely with you to achieve your desired ambiance.
Our commercial and residential lighting applications include:
LED Lighting
Landscape Lighting
Perimeter Pool Lighting
Deck Lighting
Security Lighting
Accent Lighting
Holiday & Christmas Lighting
Commercial LED Lighting
Patio & Market Lighting

We can Repair and Fix all wiring, light fixtures, bulbs, transformer issues, and poor connections.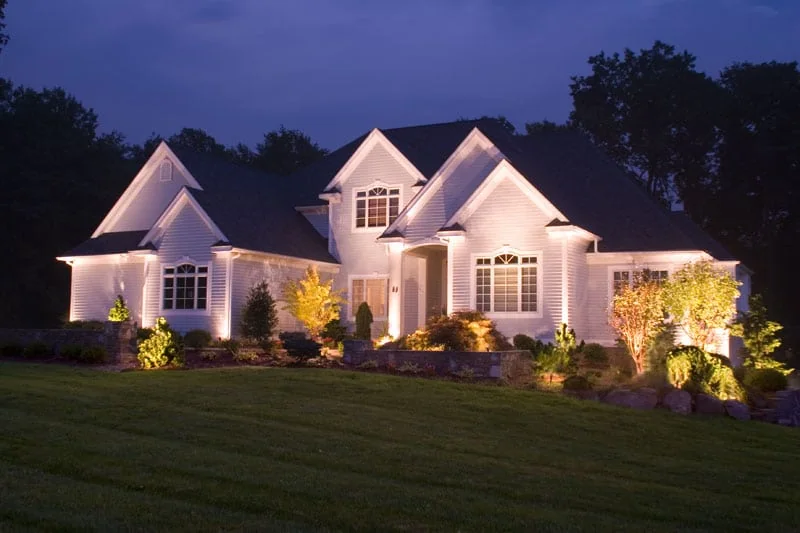 Landscape Lighting

for Homes in Baton Rouge, LA
Baton Rouge homeowners can significantly benefit from utilizing a professional landscape lighting service that specializes in outdoor, exterior, garden, residential, commercial, and architectural lighting. A well-designed and expertly installed landscape lighting system can elevate the aesthetics, functionality, and security of their properties. Outdoor lighting adds a captivating ambiance to outdoor spaces, enhancing the overall curb appeal and creating a warm and inviting atmosphere. Exterior lighting highlights the architectural features of homes, making them stand out in the neighborhood. Garden lighting brings the beauty of the natural surroundings to life, accentuating the vibrant colors and textures of plants and flowers. Residential lighting ensures a safe and welcoming environment for homeowners and their families, while commercial lighting showcases professionalism and attracts customers. Lastly, architectural lighting showcases the unique design elements of buildings, adding a touch of sophistication and elegance. By entrusting their landscape lighting needs to a professional service, Baton Rouge homeowners can enjoy the full potential of their outdoor spaces and create a visually stunning and secure environment for years to come.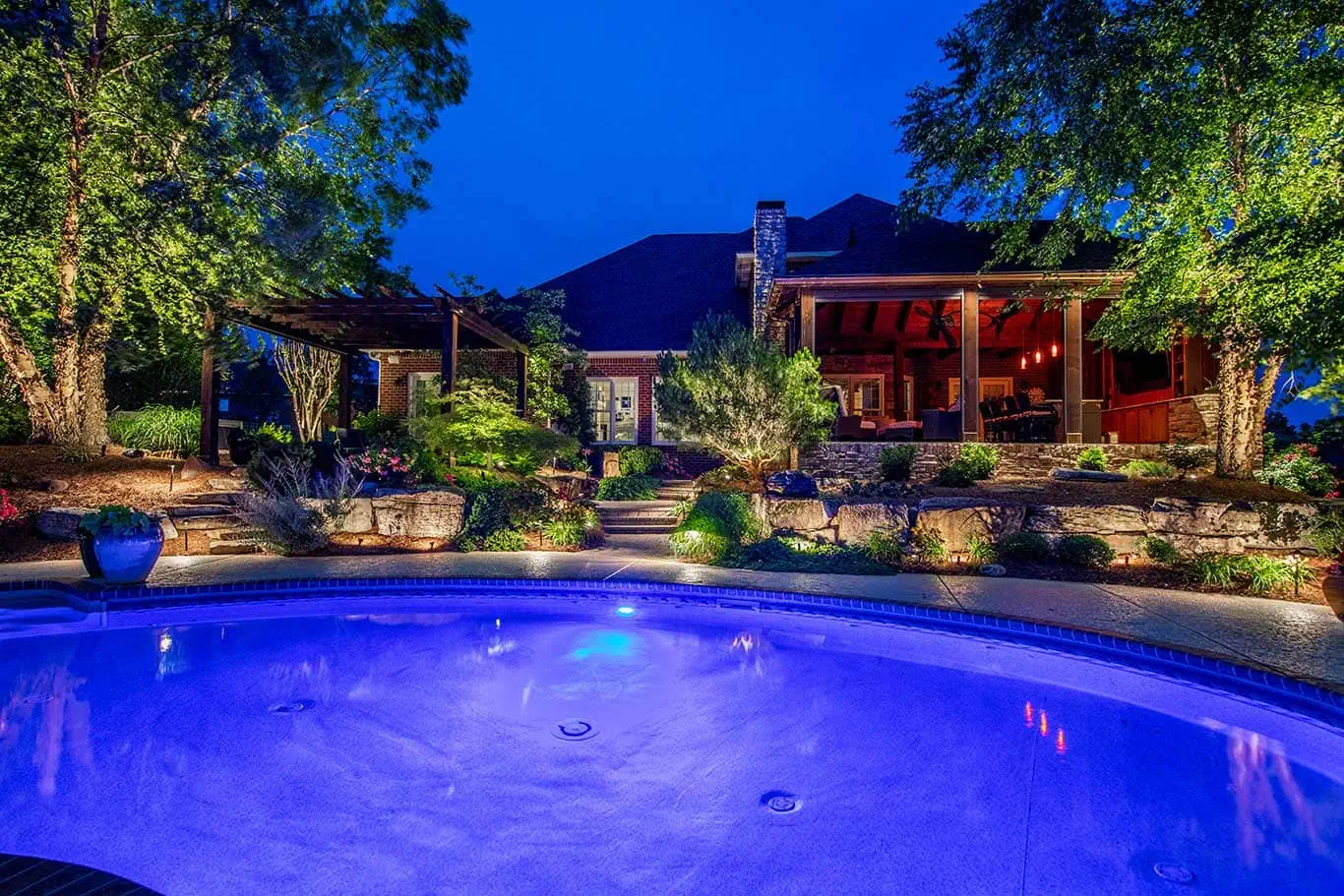 Our

Landscape Lighting Packages

Our packages include high-quality brass fixtures, LED bulbs, transformer, wiring, customized lighting design plans, and a warranty. Here are a few of the types of lighting we offer:
Up Lights
Down Lights
Deck Lights
Path Lights
Permanent String Lights
Pool Lights
and more!
Add LANDSCAPE LIGHTING to your home or business
When you add our custom-designed lighting to your home's exterior, garden, or poolscape, you're adding more living space, security, and value.
The professional application of light turns the ordinary into the extraordinary. Find out how how we can add value and enjoyment to your property, call today.
Our Landscape Lighting Blog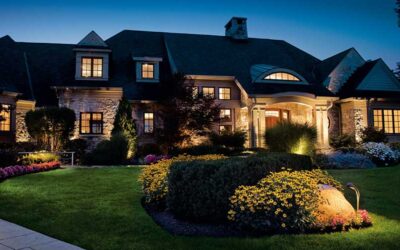 Landscape lighting, with its incredible range of products and applications, is a surefire way to improve your property and increase enjoyment of your green areas, whether you are inside or out. The yard, garden and architectural features of a property, no matter its...
read more
Frequently Asked Outdoor Lighting Questions
You Ask, We Answer
Let Us Solve Your Problems
There is no better time than now to make sure your house has the best curb appeal. With the help of Outdoor Illumination Design, that can become a reality. We have over a decade of experience in the landscape lighting industry and have developed cutting-edge designs that will look great in your garden and yard. Our landscape lighting is sure to be a perfect addition to your yard, pool, or any other area around your home or building.
We install custom outdoor lighting systems, whether it be a private home, townhome, development or commercial location, we can custom design a landscape lighting system that best fits your needs. Landscape lighting design is artful design and placement to create a dramatic look and feel. Our lighting professionals can install custom designs and simply do amazing work!
How long does a landscape lighting project take?
The front of an average home takes about a day for installation. The installation process will take additional time if you would like lighting throughout the rest of your property, but we promise to always complete projects as timely and efficiently as possible.
Will my yard be destroyed during installation?
No. Unlike high-voltage, it is not required to bury low-voltage more than 6 inches deep. This is also beneficial because it means digging up the wires to rearrange lights or add more fixtures is a fairly simple process.
Can you light tall peaks and trees with low voltage?
Yes! With the correct beam spread and wattage, we can light just about anything. We will take the time to evaluate your property to best determine how lighting can be used to illuminate specific areas and features.
How big of a difference does landscape lighting really make?
A huge different in curb appeal! Not only does it give your property added security, but it can help to accentuate your property's best features at night. This is invaluable if you value the curb appeal and value of your home, which you should! You can browse through our gallery to get a small sense of the difference our landscape lighting services can really make.